As it is part of our job to use and benefit from free software, and since we think that  free software help us to build robust and flexible product, we want also to participate :
We contribute to some projects with providing bug fix, giving feedback or support bug investigation.
Opensips :  is an Open Source SIP proxy/server for voice, video, IM, presence and any other SIP extensions.
LIRC : is a package that allows you to decode and send infra-red signals of many (but not all) commonly used remote controls.
Others...
We contribute to some foundations with are having the goal of promoting and protecting free software
FSFE : Free Software, Free Society!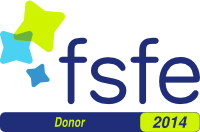 April : Promoting and protecting Free Software.